Dutch Wadden Sea World Heritage partner programme honours its first "Ambassadeurs"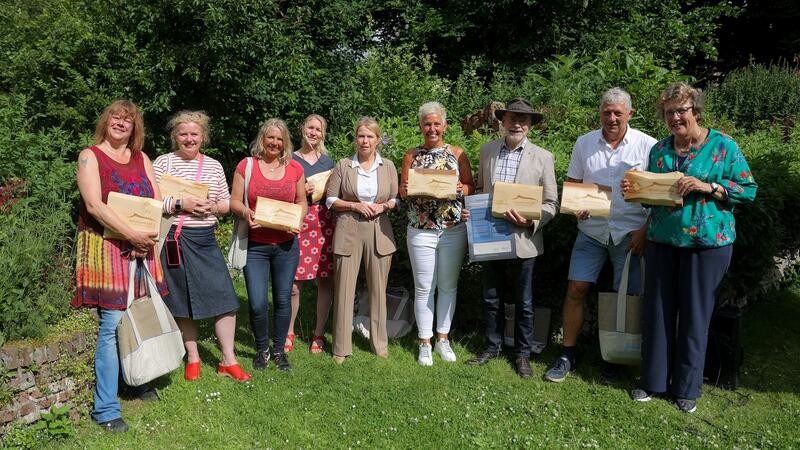 During the Day of the Wadden Sea (Dag van het wad) on 25 June, a day with lots of festive activities to celebrate 13 years of being a World Heritage Site, the first Dutch "ambassadeurs" of the Wadden Sea World Heritage Site were honoured. At three locations along the Wadden Sea coast there was a festive moment where alltogether 20 entrepreneurs signed the pledge to be worthy ambassadeurs under the watchful eye of the Dutch Wadden provinces.
Ambassadeurs for Wadden Sea World Heritage are entrepreneurs who have completed a two-day training. With the help of a green checklist they demonstrate that they are taking sustainable steps in their business operations. By signing a pledge these entrepreneurs vow to live and work in the area with respect for people, animals and the environment. Launched in spring 2022, the Dutch programme follows the examples of the partnership programmes already established in the German and Danish Wadden Sea region. The aim is to put a spotlight on the Wadden Sea's vulnerability and create ownership of its World Heritage status. The programme will also create more awareness among visitors that they are in a unique and protected area that can be enjoyed with respect for people, animals and the environment.
The Province of Groningen was represented in Lauwersoog by Mirjam Wulfse, member of the provincial executive board. In the Kap van Noord-Holland the award ceremony took place in Hippolytushoef. In Oude Bildtzijl, provincial executive member Avine Fokkens-Kelder did the honours on behalf of the province of Fryslân: "This beautiful area deserves to be protected. It is fantastic that these ambassadeurs are contributing to it. We are well on the way to making the Wadden Sea region one of the most sustainable destinations in Europe".
An overview of the ambassadeurs can be found on werelderfgoed.visitwadden.nl
The Ambassadeur programme is a joint initiative of several parties involved and is developed by order of the Ministry of Agriculture and Food Quality in the framework of the Interreg project PROWAD Link.
The photo above shows the ambassadeurs in Friesland together with Gedeputeerde Avine Fokkens-Kelder (Copyright: Marleen Annema). The photos below show the ambassadeurs in Groningen together with Gedeputeerde Mirjam Wulfse (Copyright: Sebastiaan Rodenhuis) and the ambassadeurs in Noord-Holland together with Gedeputeerde Jacqueline van den Broek (Copyright: Peter van Aalst).