Experts express concern about biodiversity in the Wadden Sea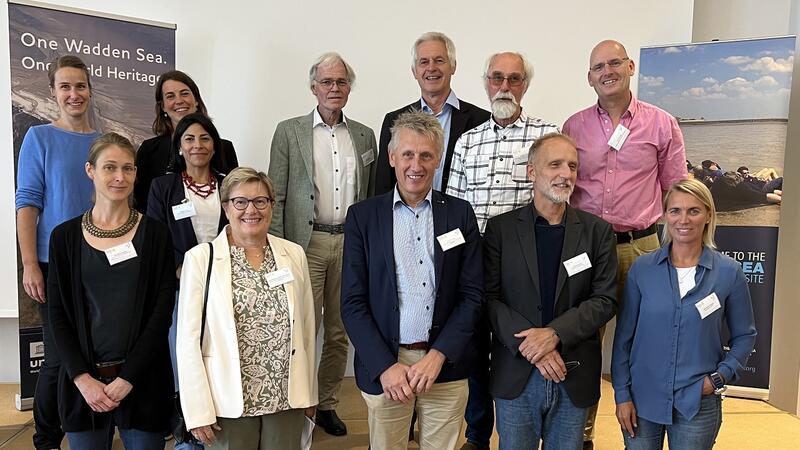 More than 150 representatives from science, nature conservation, and politics met in Wilhelmshaven for the 2023 Wadden Sea Day titled "Put the Wadden Sea's Biodiversity on the path to recovery!"
The Wadden Sea World Heritage Site is considered one of the global hotspots of biodiversity. Well over 10,000 animal and plant species are either native here or regular guests on their migration between north and south. Biodiversity is one of the criteria for the Wadden Sea's recognition as a UNESCO World Heritage Site in 2009. But this designation is not something to rest on. At today's Wadden Sea Day, more than 150 participants exchanged views on the trends in biodiversity and discussed how the loss affects the Wadden Sea's unique ecosystem and its Outstanding Universal Value as a World Heritage Site.
"The Wadden Sea Day is a perfect setting for new ideas and impulses for the trilateral cooperation on how to manage the area in a way that gives added value to what each of the three countries does on a national level", said Anne-Marie Vaegter Rasmussen, Chairperson of the Wadden Sea Board.
"This special ecosystem needs tailored solutions to maintain its biodiversity," summarised Peter Südbeck, Head of the National Park Authority "Niedersächsisches Wattenmeer", the day's discussions. "It is important that our strategies include zero-use areas or active restoration measures for selected species as well as a reduction of pressure from different sectors using the area's natural resources." He added that it also became clear that a stronger collaboration beyond borders and across sectors is urgently needed to protect and strengthen the biodiversity in the Wadden Sea.
The Wadden Sea Day has been jointly organised by the National Park Authority "Niedersächsisches Wattenmeer" and the Common Wadden Sea Secretariat since 2006.
Statements of some of the speakers (alphabetical order):
Jon Day, James Cook University (Australia, online participation)
One of the zone types introduced into the Great Barrier Reef in the early 1980s comprised small, but permanent, "zero use areas", known locally as Preservation (or pink) Zones. Today these 'no-entry' zones have far greater species diversity than the better-known 'no-fishing' zones (the 'green zones'), the zone type that prohibits fishing or collecting, but allows entry (e.g. for tourism).
Sjon de Haan (Netherlands), Wadden Sea World Heritage Coordinator:
Tourism is big and growing, A fence around the Wadden sea is not the solution for protecting the biodiversity. it is not about how to keep tourist away, but about how to get the right tourists and to harness the potential positive impact tourism can have. The future is regenerative tourism, tourism that adds value to nature and local communities, not extractive tourism.
Dorothee Hodapp (Germany), Helmholtz Institute for Functional Marine Biodiversity (HIFMB, Universität Oldenburg):
The Wadden Sea is currently experiencing a replacement of species accompanied by changes in functional traits and phenology rather than a reduction in the number of species. The main drivers of biodiversity change are still habitat destruction, resource extraction, pollution, and eutrophication. However, the influence of climate change is increasing in importance.
Philipp Oberdörffer (Germany), Lower Saxon Chamber of Agriculture:
Fisheries and biodiversity are naturally interlinked. Hence, especially in a national park, the art is to bring together protection and benefit as best as possible.
Karsten Reise (Germany), Alfred-Wegener-Institute for Polar and Marine Research:
Shorelines and estuaries suffer from opposing policies and management. Through new cooperation, sand supplies onto shores instead of stone revetments and groins, and floating docks for transferring oceanic cargo before entering estuaries, would revive biodiversity resilient to climate change in the Wadden Sea.
Henk de Vries, It Fryske Gea (Netherlands):
To restore the biodiversity of the Wadden Sea, attention must be paid to the recovery of the ecosystem and the elements that go with it, and the area must be managed as a nature reserve and all use must be in harmony with the natural values. Much remains to be done on all three aspects. The EU Biodiversity Strategy can provide direction for this.